Your Family Dentist in
Brampton
Brampton Family Dental Welcomes New Patients
Patient Comfort
We have worked hard to make Brampton Family Dental a warm and inviting location for your appointments. We want you to feel at ease from the moment you walk in the door.
Bilingual Team
We have team members that speak English, Portuguese, Arabic, and Korean. We welcome you to share your language preference with us when you book your appointment!
Committed Team
Our team has been with our clinic long-term and is dedicated to helping patients have a smile they can feel confident in. You can rely on us to make a difference in your smile.
Helping You Look and Feel Great
The entire team of dental professionals at Brampton Family Dental aims to make your smile look and feel great every time you visit us. We are now accepting new dental patients and welcome families and patients of all ages. We provide a friendly and caring atmosphere with wifi and Netflix available.
As a service to our patients, our Brampton dental practice accepts most dental insurance programs, including non-managed care. We are not part of any managed care network. Our team will prepare all the necessary forms for your dental benefits.

Family & General Dentistry
Dental Services For The Whole Family
Meet Our Brampton Dentists
Our Brampton dental team welcomes you and your loved ones to our dental practice to receive great dental care from our general dentists. Our dentists are committed to improving oral health through effective, gentle, and modern dental solutions. Our team takes a personal interest in patients, taking the time to listen and answer questions, as it is our goal to support a positive dental experience.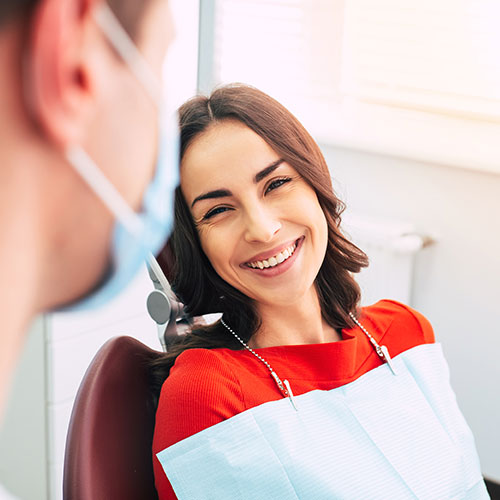 In The Heart Of Your Community
We are conveniently located in the strip mall near the Pharmacy at McMurchy Ave and Queen St. Find us next to the cafe close to the bakery with free parking available.
When Was Your Last Visit?
Take Care Of Your Oral Health & Book Your Dental Hygiene Appointment Today
We believe that the best care we can offer is preventative, cooperative, and consistent. We hope to see you and your family on a regular basis so we can keep treatments to a minimum. Book your next dental exam and dental hygiene appointment today!