Dental Bridges in Brampton
Fixed Dental Bridges Near You
Dental bridges are literally created to "bridge the gap" in your smile. Empty sockets left by missing teeth can cause patients significant difficulties in chewing and digestion, as well as a loss of confidence. Dental bridges are a simple and very common choice for restoring missing teeth. Our dentists are highly experienced in creating and placing bridges; we can craft dental bridges in many different ways to suit your needs.
How Dental Bridges Are Created
Dental bridges can be created in several ways using various types of dental materials. The most common type of bridge is a traditional bridge, which uses two dental crowns placed over the remaining teeth on either side of the gap. These crowns hold an artificial tooth in place between them, resulting in a structurally sound restoration. Bridges can also be placed using dental implants or the natural teeth as supportive structures. They can be made from composite resin, zirconia, metal, or ceramics, depending on your needs.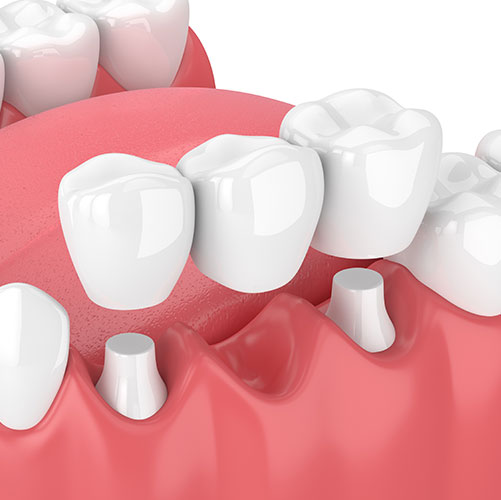 Comfortable Restorations for Missing Teeth
Our dentists are committed to helping you find the restorative treatments that will work best for you. If you are interested in dental crowns as a solution for missing teeth, ask us about dental bridges and other restorative options. We can help you select the restoration and material that will best fit your lifestyle, needs, and budget.
When Was Your Last Visit?
Book Your Dental Appointment Today