Dental Crowns in Brampton
Dental crowns are also known as dental caps because they are dental reconstructions that fit over the top of an existing tooth. Each crown is custom-made for a patient's tooth and fitted perfectly in the mouth to fully restore the bite and the beauty of the smile. Our dentists may recommend a dental crown for a damaged or discoloured tooth, or a tooth that has recently undergone a root canal procedure.
How Dental Crowns Are Made
Dental crowns are created in a professional dental laboratory that we have partnered with to bring you beautiful, custom restorations. The process begins with an appointment to prepare the tooth and take an impression. Based on this impression, the dental lab will create the dental crown, which is typically made of porcelain to mimic the natural colour and translucency of the surrounding teeth. Once your crown is ready, you'll come back for a second appointment to have our dental team fit and secure the crown.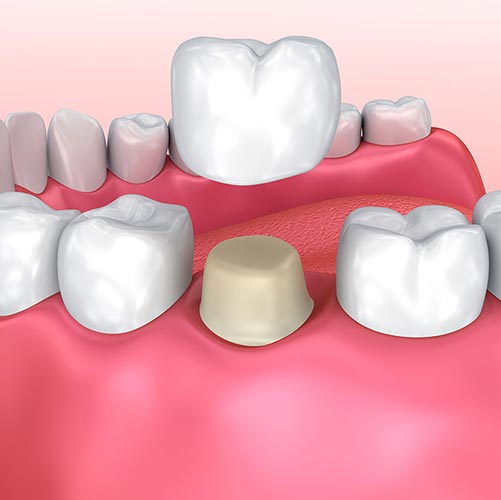 Cosmetic & Restorative Dental Treatments
Dental crowns have a wide range of uses, from cosmetic upgrades to restorative treatments. The crown restores the strength, shape, size, and colour of the natural tooth. We can have your custom dental crown created from a range of materials based on your needs, including porcelain, metal, resin, or ceramics. Once a crown has been placed, it can typically last many years with regular at-home and in-office dental care.
When Was Your Last Visit?
Book Your Dental Appointment Today