Dental Hygiene &
Oral Exams in Brampton
Maintaining strong oral health starts with regular check-ins with our dental health professionals. During examinations, we can often detect symptoms and signs of oral disease, decay, and abnormalities. When you visit us regularly, we have a better chance of diagnosing and treating issues while they are less serious, resulting in more comfortable, affordable, and effective dental care.
How We Maintain Your Oral Health in Exams
Oral exams may look slightly different for each patient, depending on your age and oral health. During an exam, we may do any or all of the following:
Take detailed dental x-rays of your teeth and the structures of your mouth
Visually and manually check your teeth and gums for signs of disease or decay
Perform an oral cancer screening
Review your health history
Brampton Family Dental is always pleased to welcome new patients to our practice. Your first oral exam will be more detailed than follow-up exams. We will look for signs of tooth decay, gum disease, damage to the teeth or soft tissue, and irregularities in the structures of the mouth. All of this will help us develop a strong baseline so we can provide treatment if necessary and compare future assessments to this model. Please arrive 15 minutes early for your appointment and bring medical and insurance paperwork for our administrative staff.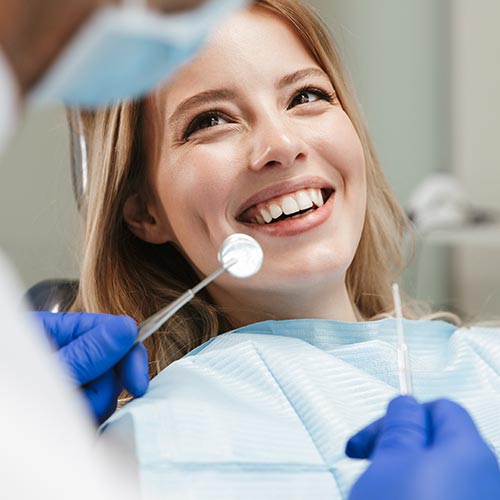 Dental Hygiene Appointments
Dental Hygiene Appointments in Brampton
Your at-home oral hygiene routine takes care of a great deal of the substances that can build up in the mouth and on the teeth and cause oral health issues. However, our dental hygienists are able to remove some of the more stubborn substances, including plaque that has hardened into tartar on your teeth. Using special dental instruments and drawing on our training and experience, we can leave the tooth enamel clean and ready to continue protecting your teeth.
Our Experienced Team of Dental Hygienists
In Canada, dental hygienists are skilled and highly trained professionals with a focus on preventative oral care for patients with various types of oral health needs. Our team of dental hygienists is committed to making every visit a great one. We communicate with you throughout your dental hygiene appointment to ensure you know exactly what to expect.
Visit Us for Your Next Appointment
It's never too late to start taking care of your oral hygiene with professional assistance. We are pleased to welcome patients of all levels of oral health. Whether it's been several years since you've seen a dentist or dental hygienist, or you need a new dental clinic to stay up to date on your oral hygiene, Brampton Family Dental is here for you.
When Was Your Last Visit?
Book Your Dental Appointment Today